Every robot knows it should sacrifice its own comfort to that of its owners, no?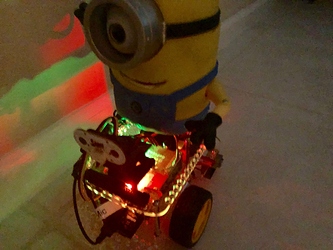 At 4:30am this morning Carl was having a crisis:
He needed to get on his dock to recharge
The distance to the dock was 24mm ( less than one inch) too much, probably because I bumped him with my chair when I headed off to sleep for the night four hours earlier.
Carl's programmed strategy for this situation is to shout "MANUAL DOCKING REQUESTED!"
Carl's programming prevents him from speaking (or shouting) during quiet hours (11pm to 10am)
So Carl sat staring mournfully at his dock for ten more minutes, then quietly put himself into a deep sleep.
Charging Status:  Not Charging
Docking Status:  Manual Dock Requested
Last Docking Change: 8h 25m 30s



******** WARNING: 7.4v Safety Shutdown Is Imminent ******
QuietTime speak request: Safety Shutdown Is Imminent. at vol: 125

******** WARNING: 7.4v Safety Shutdown Is Imminent ******
QuietTime speak request: Safety Shutdown Is Imminent. at vol: 125

******** WARNING: 7.4v Safety Shutdown Is Imminent ******
QuietTime speak request: Safety Shutdown Is Imminent. at vol: 125

******** WARNING: 7.4v Safety Shutdown Is Imminent ******
QuietTime speak request: Safety Shutdown Is Imminent. at vol: 125
SHORT MIN BATTERY VOLTAGE: 7.24
SHORT MEAN BATTERY VOLTAGE: 7.39
QuietTime speak request: WARNING, WARNING, SHUTTING DOWN NOW at vol: 250
BATTERY 7.32 volts BATTERY LOW - SHUTTING DOWN NOW
Shutdown at  2020-11-29 04:44:45