I have designed a potential alternate system for powering the GoPiGo using a Li-Ion Battery pack. The pack uses 3x3.7V 18650 rechargeable Li-Ion cells (3S1P) to create a nominal 11.1V battery pack. Each cell has an individual protection PCB for over-current, over charge and discharge protection. The bill of materials for the alternate power system is as follows:
• QTY:3 - TrustFire PCB Protected 18650 3.7V 3000mAh Rechargeable Battery (1pairs), $16.99x3 = $51 CAD, http://www.amazon.ca/gp/product/B00KTTFFCU?psc=1&redirect=true&ref_=ox_sc_act_title_11&smid=A6Y9N4PV5Y6GJ
• QTY:1 - 3pcs Spring Loaded Black Plastic 3 x 3.7V 18650 Batteries Holder Case, $7.50 CAD, http://www.amazon.ca/gp/product/B00O9W691E?psc=1&redirect=true&ref_=ox_sc_act_title_1&smid=A2D9L39QUE9EAD
• QTY:1 - TrustFire Multifunctional TR003 Charger Cylindrical Li-ion Battery Fast Charge For 18650, $26.97 CAD, http://www.amazon.ca/gp/product/B00IMXOSTG?psc=1&redirect=true&ref_=ox_sc_act_title_10&smid=A17VWINQQL02TU
Total cost ~$86 CAD
The system includes two sets of 3 batteries (6 total), so that a new set can easily be swapped in after the old system runs out of juice. For wiring I was just planning on cutting the provided power cable that came with the GoPiGo and splicing it to the power leads on the 3x3.7 18650 battery case.
Here is the wiring diagram that I have created: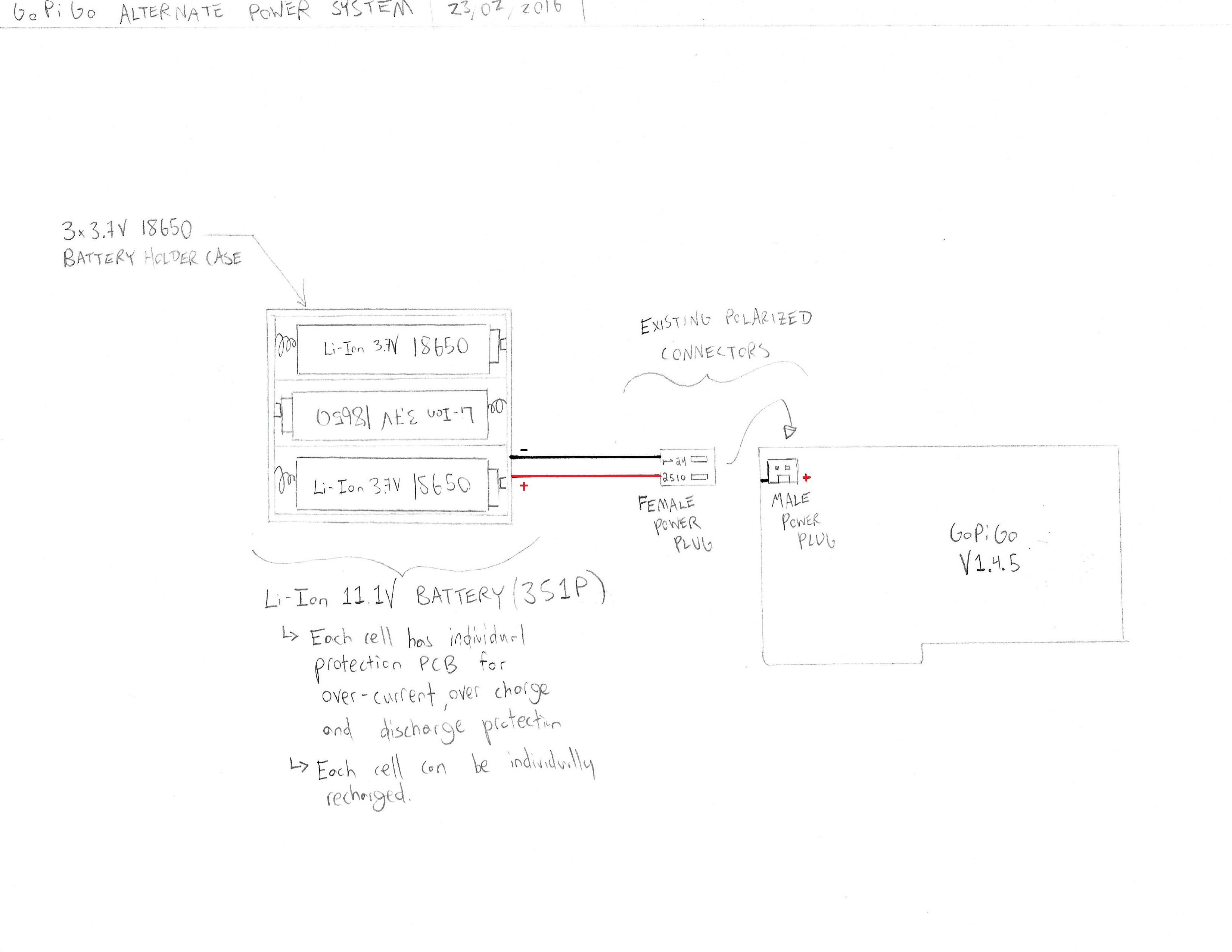 Note1: The wiring that was on the 18650 battery cases I purchased was only 26 AWG and likely should be upgraded to 22 AWG or lower to handle the current draw of the GoPiGo.
Note2: If you live in the USA a better option may be to get a multi-cell battery pack with a single PCB protection circuit (i.e. http://www.amazon.com/AT-Tenergy-2600mAh-Protected-Rechargeable/dp/B00U0P3CNM/ref=sr_1_1?ie=UTF8&qid=1456295453&sr=8-1&keywords=Tenergy+Li-Ion+11.1V+2600mAh+Rechargeable+Battery+Pack) & compatible charger (http://www.amazon.com/TLP-2000-Tenergy-Universal-Charger-3-7V-14-8V/dp/B001BEXDRQ/ref=pd_sim_sbs_23_1?ie=UTF8&dpID=31Ni-yXswGL&dpSrc=sims&preST=AC_UL160_SR160%2C160&refRID=1033GAHKDP0924J4E3RK). This was not a good option in Canada because multi-cell Li-Ion batteries are very expensive to import whereas single cell Li-Ion typically have free shipping and no extra customs charges.
I have read the guidelines for power options on this website (http://www.dexterindustries.com/GoPiGo/getting-started-with-your-gopigo-raspberry-pi-robot-kit-2/3-power-up-2/) and understand this system falls under "3. Using a custom power supply" and that the requirements are for a voltage between 9V and 12V with a rating of 2A or above. I know that the GoPiGo does not have reverse polarity protection and that I will triple check the polarity of the battery pack before plugging it in.
My question is whether the voltage regulator and related components on the GoPiGo can temporarily handle an input voltage of up to 12.6V while the battery pack is fully charged? Each cell is 4.2V when fully charged, so 4.2V x 3 cells = 12.6V. According to this website at a discharge current of ~1A the pack will only be above 12V for about 5 minutes (Test of TrustFire TF18650 3000mAh (Flame)).