For more than 20 years I have wanted my robots to become independent - managing their own charging to allow 24/7 operation.
This year, with my GoPiGo3 robot, I substantially achieved this goal, and have learned more about the challenges facing a 24/7 robot. Specifically, in my case, the capacity of NiMH AA cells begins to diminish quickly around 140 to 150 cycles, 1200 to 1500 hours, or 2 months of 24/7 operation.
NOTES:
Batteries: Powerowl 2800mAH NiMH AA-cells
Charger: Tenergy 1025 Smart Charger set at 1A max rate
Typical Docked, Charge Time: 3 hrs
Playtime: Start at transition to trickle charging, end at 8.1v reported
(8.1+0.6 protection diode drop = 8.7 / 8 cells = 1.0875v/cell )
Load: Measured initial battery load of 318 mA at 9.6v
Configuration:
Raspberry Pi 3B ave load 0.00 (uptime),
GoPiGo3,
TOF-DistanceSensor,
USB powered speaker
.
Data Span: First 2 months 7-1-2019 to 9-6-2019
Life Point: After 156 docking cycles 1272 hrs operation in Carl
ANALYSIS:
Minor capacity decrease until 145th cycle (10% or 0.07% per cycle)
Steep reduction in capacity in next 10 cycles (10% or 1% per cycle)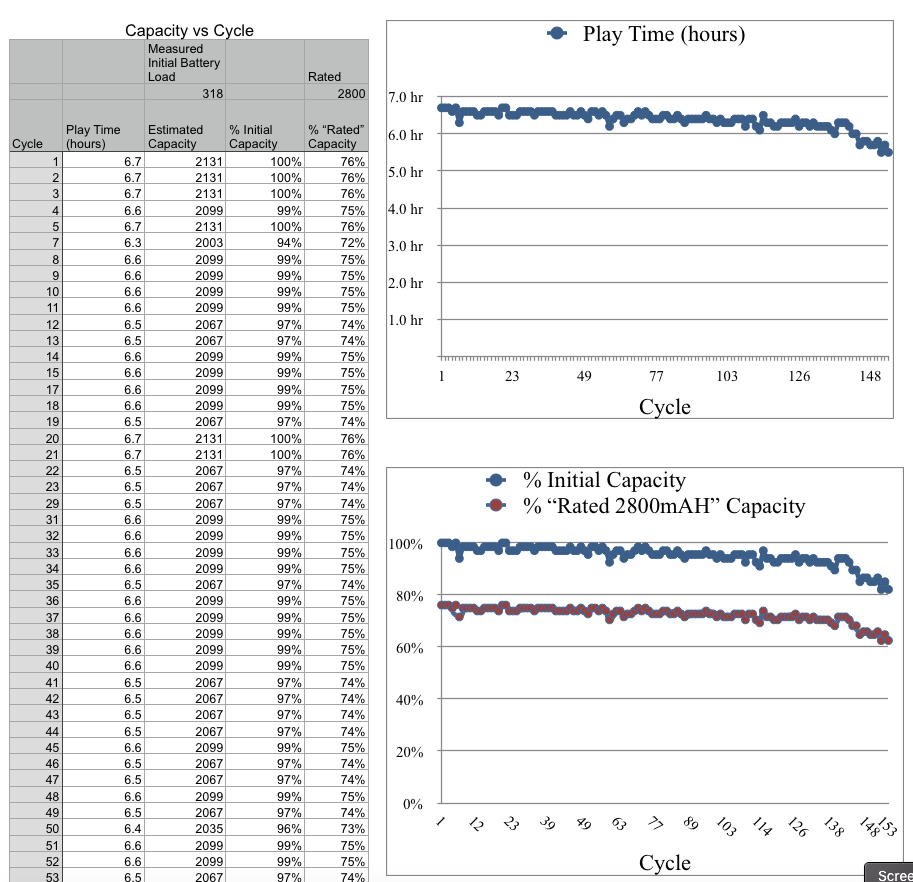 For Comparison: (candlepowerforums 2014 Eneloop at 500mA rate)
100 cycles: near flat capacity,
150 cycles: down to 90% capacity
175 cycles: "Knee to 0%" at 80% capacity
.

.
Several people have suggested Lithium Ion as a better power source, but the charging complexity of these cells is quite a hurdle to integrate into my two electrical contact docking system, and most of the Raspberry Pi oriented LiPO hats have GPIO header pin conflicts with the GoPiGo3.
I just noticed a possible non-conflicting hat called the [u]PiJuice[/u], which could work for powering the Pi (5v) but getting the 7.2v - 12v to drive the GoPiGo3 board, and the extra stack height, and isolation, and who knows what else, will remain challenging.
Designing real world solutions is so complicated…