Inviting @cleoqc to participate.
There is an issue with the existing GiggleBot extensions for MakeCode such that the eyes, (the two Neopixels at the front of the 'bot), cannot be addressed as there are no blocks that address them.
Viz.: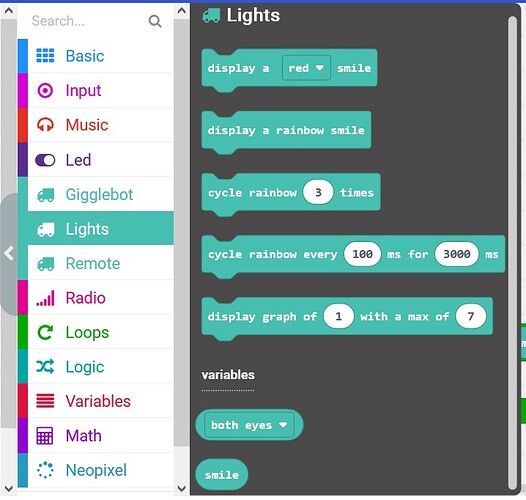 Note that there is a variable object for the eyes, but there is no block that you can insert it into.
You can address the eyes by adding some raw code to the JavaScript pane since you can code directly in JavaScript, or flip from blocks to code to see what you're doing.
The code to insert is:
lights.whichEye(gigglebotWhichEye.Both).showColor(neopixel.colors(NeoPixelColors.Green))

The resultant block code looks like this: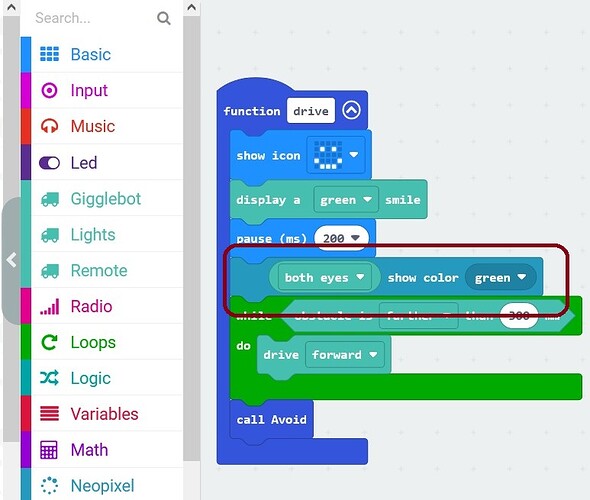 Note that the circled block, though it actually exists, (?!!), is odd.  You will note that the far left hand side of the block has no verb.
You can change which eye, and the color from either the code or the blocks, but it is interesting that the block does not exist, and when present has no verb.