GoPiGo Robot More Fun Than Facebook's Robot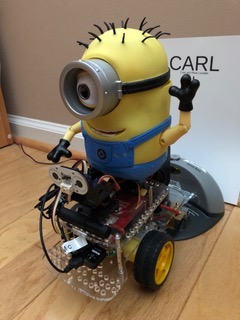 Hypothesis: A Modular Robotics / Dexter Industries GoPiGo3 robot with a single Raspberry Pi 3B central processing unit and the PiCamera, should be sufficient to create a fun robot.
Comparative:
Facebook Robot: "Near-perfect point-goal navigation from 2.5 billion frames of experience"[1]
"even failing 1 out of 100 times is not acceptable in the physical world"
error might damage robot or surroundings
learns to navigate without a map
"maps become outdated the moment they are created. Buildings change"
"no scope for mistakes of any kind – no wrong turn …, no exploration"
agent learns to exploit statistical regularities in real indoor environments
distributed GPU processes, collectors (simulated actors with sensors)
2.5B steps or 80 years experience
three days wall clock using 64 GPU each having 10K fps processing ability
90% success in 1 day with 8 GPU processed 100M steps
RGB-D imagery with compass and GPS
Cost? Probably over $100K
Note: RGB-D without GPS and compass failed at 100M steps, 16% success at 2.5B
Success is defined as "near-perfect point-goal navigation"
.
.
Suggested GoPiGo Fun Robot Principles:
Mistakes are expected and tolerated
Building does not change (quickly)
Everything is an estimate
There is no deadline
Use what you have available
Learn Environment Map from images
Parameterize map using encoder data
Increase trust/adjust with ToF Distance Sensor and IMU
Increase trust with multiple measurements over time
Learn Calibrations (Image, Encoders, ToF Distance Sensor, IMU)
Motivation for map is to allow exploration beyond sight of recharge dock
Map and exploration are actually much less important than human interaction
Cost? around $250-$350 (GoPiGo3, Raspberry Pi, PiCam, Battery and Charger)
[ToF Distance Sensor, Servo Kit, IMU]
Success: "robot is fun"
.
.
GoPiGo Pertinent Parameters:
Raspberry Pi 3B:
CPU 4x Cortex-A53 64-bit 1.2GHz
GPU 28.8 GFLOPS
RAM 1GB shared CPU/GPU memory
.
.
Power System:
9.6v nominal rechargeable battery provides 1 to 8 hour "life segments"
.
.
References:
[1] https://ai.facebook.com/blog/near-perfect-point-goal-navigation-from-25-billion-frames-of-experience/