I'm starting a new thread since the first part of the discussion on Chapter 9 got a little long (and a bit off topic). That original thread is here.
LaserScan issue solved!
When I was showing the RVIZ for my AMCL navigation, if you look close there's an error on the LaserScan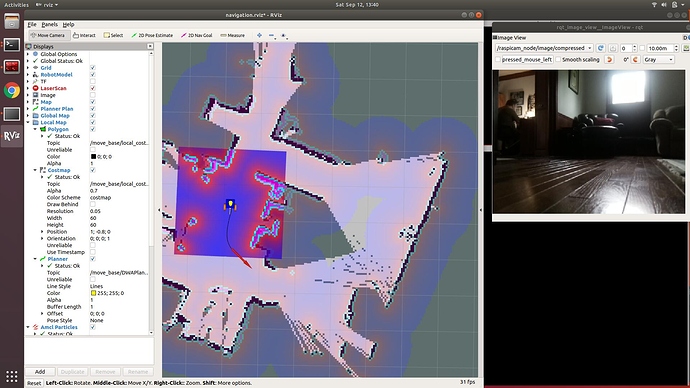 If you expand it the error message is an unhelpful "unknown reason for transform failure". I'd have to set the global frame to /base_frame for the scan lines to show up. I checked my transforms - I did have a valid tf between /map - /odom - /base_frame, so that wasn't the issue. (Side note - I had to sudo apt install ros-melodic-tf2-tools so that I could use rosrun tf2_tools view_frames.py. I did this on my laptop so that the pdf generated would be there where I could see it).
I found this post in ROS answers: https://answers.ros.org/question/10284/rviz-tf-error-unknown-reason-for-transform-failure/ plus others that had similar comments about the message timing. The most helpful part was user AlexM posted this link to his pull request on how to fix this:
https://github.com/EAIBOT/ydlidar/pull/19/files.
Looks like this hasn't been fixed yet. Looking at the files that had been downloaded onto the robot I went to ~/catkin_ws/src/ydlidar/src/ydlidar_node.cpp. I was able to change the two lines suggested in the pull request:
        scan_msg.scan_time = 1/_frequency;
        scan_msg.time_increment = 1/((float)samp_rate*1000);

Then on the terminal I made sure I was in the ~/catkin_ws directory and ran catkin_make. That actually worked (I'm always a little intimidated compiling C++ programs; on occasion in the past I had to delete the /build and /dev directories to get things to compile correctly. Fortunately I didn't have to for this).
Now I can see the LaserScan indicators when the global_frame is set to /map.
I do get some other little caution messages when I run my launch files - I'll be working through those as I try to improve Finmark's navigation.
/K