We're testing a new operating system for the educational community. For now, we're calling it "cinch". The idea is to make it much easier to setup and connect to the Raspberry Pi Robot. You can see more here.
Cinch puts up a wifi network called "dex" that can be connected to directly over wifi, no network setup needed. Simply login to the SSID, and in your browser connect to "http://10.10.10.10".
Cinch can be used for Chromebooks with the Raspberry Pi, and for the Raspberry Pi Zero!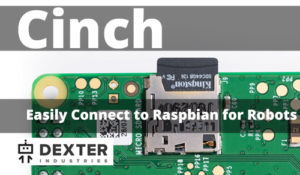 See the instructions for how to get setup with Cinch and more detailed instructions on how to use Cinch here.