I'm considering various configurations to power a GoPiGo3 robot (rated to supply 2.5A to a processor?) equipped with a Raspberry Pi 5 (rated to draw 3A for 0.6A to USB, and 5A for more to the USB) including at the moment:
Simple stack - GoPiGo3 provides power (up to 2.5A? ) thru the 40 pin connector to the Pi5

Simple stack - twin battery (one to GoPiGo barrel connector, one to Pi5 USB-C power connector

Ribbon cable'd stack - GoPiGo3 provides processor power to Pi5

Ribbon cable'd stack with 3v3 and 5v power wires cut - twin battery (one to GoPiGo3, one to Pi5)
The twin battery concept is further subdivided into four ideas
a) PD aware power bank that will supply (only…) 5v 3A over USB-C, or
b) Pololo 5v 5A step down power supply board connected to single or
c) separate power bank.
BTW robot Dave already has a separate 5V power supply for the LIDAR, (Oak-D-Lite (rated 4.5W) currently powered from Pi4 processor's USB-A port (with 5v 1.2A max) through the GoPiGo3 power system.
d) moves the Oak and the Pi5 to the 5V 5A+ supply along with the LIDAR.
The Pi5 automatically drops USB power limit to 0.6A if processor needs more power than supply will give.
Guidance please?
(BTW the Create3 has only 3A supply to the processor which is a problem for the Create3 and TurtleBot4Lite bots to find power for the Oak-D-Lite with a Pi5 that was not there with a Pi4 configuration, although the Pi4 could not be loaded to its max. All these and the GoPiGo3 robots just need a twin PD usb-c power bank if such exists.)
This was my Nov 2022 early start on Power Budget for a ROS 2 GoPiGo3: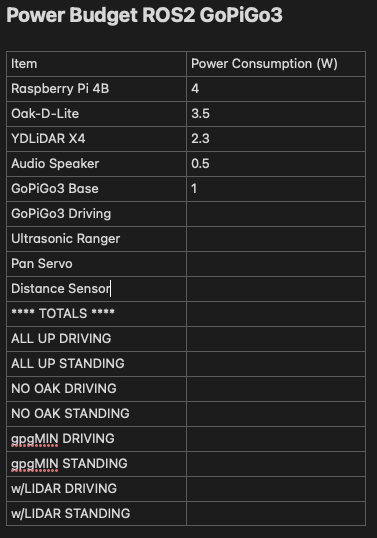 (So many great ideas for investigations, but I get easily distracted…)