Initially, I did not detect any issues with moving from Stretch based R4R to the "PiOS" based R4R
Then: Abandoned after fatal I2C failure.
Retest after running OS update/upgrade:
=== 20Nov2020: All Tests Passed - Carl has "Blessed" this beta OS version ==
My Configuration:
Raspberry Pi 3B
SanDisk Ultra 32GB card
GoPiGo3 (red card) with V1.0.0 firmware
8 NiMH AA cells in DI supplied holder
I downloaded the 10-17-2020 R4R PiOS version and

installed on a fresh SDcard with Raspberry PI Imager.

I followed my prior setup steps (including disabling ipv6 based on @jimrh experience)

Power On: The bot announced his onboard WiFi address

I remoted in with ssh, and continued configuration
a few minor changes - updated setup doc - will post later if all goes well

git cloned Carl down to the bot

ran my ./plib/status.py
**pi@Carl** : **~/Carl $** ./plib/status.py 
Starting status.py at 8.74v
********* CARL Basic STATUS *****
2020-10-22 12:36:55 up 11 min, 3 users, load average: 1.47, 0.87, 0.51
Battery Voltage: 9.61
5v Supply: 5.08
Estimated Life Remaining: 6 h 2 m
Processor Temp: 53.2'C
Clock Frequency: 800.084 MHz
throttled=0x0
Distance Sensor: 16.1 inches

and the Raspbian For Robots Desktop appears to be working: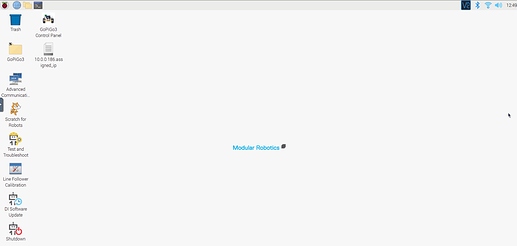 All GoPiGo3 Control Panel functions worked correctly.
Servos, Distance Sensor, IMU, and Camera are all working.
Both onboard and USB dongle WiFi are working as expected.
USB Microphone is working (slightly different home/pi/.asoundrc and /etc/asound.conf than prior)
Text-To-Speech espeak-ng working
NoVNC/RealVNC in Web Browser and Mac Remote Desktop working well with 1920x1080 display configuration in raspi-config.
Completed the "Carl-ification" successfully:
setup cron for my docking and battery maintenance,
setup life.log function
setup encoder and imu logging
(Did eventually run into NoVNC complaining "cannot display" when reconnecting after not using "disconnect session" at end of web browser session. I need to investigate further.)