WHERE AM I?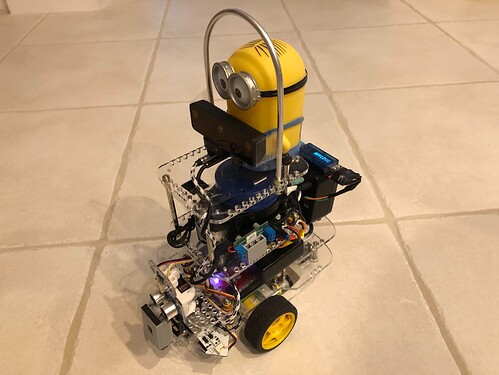 I seem to remember Keith getting to a point where Finmark was SLAMing (Simultaneous Localization and Mapping) with the pretty pictures not looking as pretty as expected/desired.
There are only 25 (or more) parameters to tweak, and ten more tutorials to understand, but already I'm deciding this ROS2 GoPiGo3 knows where he is sufficient to his wishes.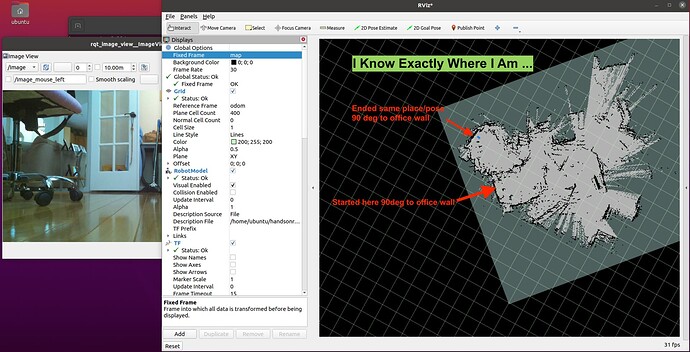 ****************************************
Sunday 10/30/22
 13:38:41 up 31 min,  3 users,  load average: 1.40, 1.46, 1.36
temp=55.5'C
frequency(48)=1400308608
throttled=0x0
               total        used        free      shared  buff/cache   available
Mem:           1.8Gi       578Mi       785Mi        14Mi       480Mi       1.1Gi
Swap:             0B          0B          0B
GoPiGo3 Battery Voltage: 11.1 volts

I think this says SLAM is using 4 threads but wanted 50 to do a really bang up job:
[async_slam_toolbox_node-1] W1030 13:30:38.062502  1574 preprocessor.cc:62] Specified options.num_threads: 50 exceeds maximum available from the threading model Ceres was compiled with: 4.  Bounding to maximum number available.

Raspberry Pi only has 4 cores to give it.
(I'm not sure of what I've programmed the SLAM to do, but I think I saw something about "localized mapping" so it expects the map around it to be probably accurate.)