Greetings!
Here's another interesting hardware blurb.  And yes, it does link to products off-site.
Today's interesting product is the, (relatively), new Seagate Expansion / OneTouch / Ultra Touch series of very small USB 3.n SSD's.
Viz.: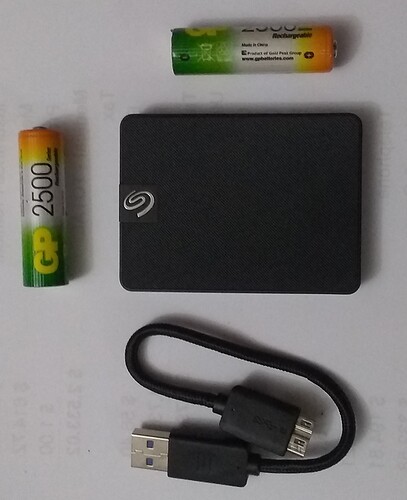 Here is a new drive, (500 gb), compared to a couple of AA batteries.  What you can't see in these pictures is how thin it is - it's actually thinner than the AA battery next to it - about 2/3 the thickness.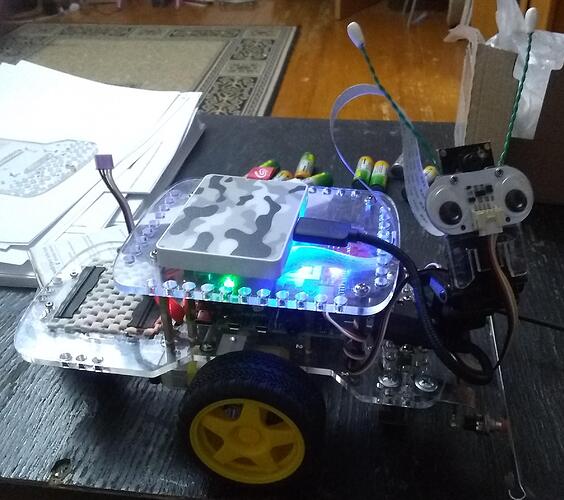 Here is one of these drives mounted on Charlie's back, that I am using to multi-boot various O/S's.
Because it's a true SSD as opposed to a flash drive, it's very, VERY fast.  Likewise, because it's an SSD, it draws very little power.
I'm using the ones I have plugged into Charlie's USB-2 ports because the plug is too big. (I have to fabricate a special version of the USB-3 plug that's shorter to fit behind Charlie's pan-and-tilt where the USB-3 ports are.)
Cost wise, it's about twice the cost of a high-end SanDisk 128 gig App1 or App2 rated micro SD card, (at least when I bought them about a year ago, they might be cheaper now), however that is offset by both the incredible increase in size and the orders, (plural), of magnitude speed increase even when run as a USB-2 device.
Here in Russia, El-Dorado sells them for about 6,000₽ (about $80 US) and the 1Tb version for 10,000₽ (about $130).  Just in case you didn't recognize the symbol, "₽" is the Russian Ruble currency sign.
In the US, Micro Center has the 500 Gb version for about ten dollars less.
Viz.: The 500 GB version for $71, and the 1TB version for just about $130 too.
I hit Micro Center because I know they're good.  (P.S. Maybe Modular Robotics should consider selling stuff through them?)
I am sure you can hit Amazon and a half-dozen other places and get similar pricing in the U.S.  Other countries?  You'll have to do your own research.
In any event, it's fast, relatively inexpensive, holds a lot of stuff, and it's both small and light enough to seriously consider adding to a 'bot.
What say ye?